What virtual conference software is GRASFI 2020 using?
---
We are using Remo.co. Remo allows us to have concurrent parallel sessions and for you to network and move around the conference space during breaks– much like you would in a physical event. To get yourself familiar with the software we will send you a how-to video ahead of the event. To get you started, please watch the video below.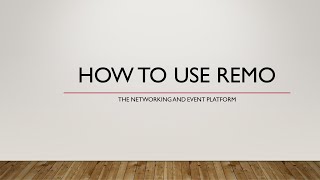 We will also run live training sessions in early September with our presenters to get them comfortable with the system.
---
How do I register for the event?
---
Registration is now open via this page. You only need to register once to attend all plenaries, paper presentations, and public side events. Registration is free for academics, students, researchers, civil servants, regulators, and civil society practitioners. A registration fee of US$250 is chargeable to practitioners working on sustainable finance-related topics in financial institutions or other relevant sectors.
---
Will there be virtual side events and opportunities to network?
---
Yes. Side events will be posted to the program as they are confirmed. Our online software allows for networking in between presentations. Be sure to create your account on Remo.co before the start of GRASFI 2020 so you can add your details to your profile to create your virtual business card.
---
At what time and time zone will GRASFI 2020 convene?
---
The Conference will kick off at 7:30 am EDT on September 8. Plenary discussions will begin at 8 am Eastern Daylight Time (EDT) daily, followed by paper presentations from 9:30 am to noon EDT on the first three days of the Conference. Additional discussions and presentations will be made at designated times, accommodating various time zones, as specified in the program. To check what time it will be for you, visit https://www.thetimezoneconverter.com/.
---
How will I present my paper?
---
Once you have registered for the conference as a presenter, you will receive a training video in your confirmation email on how to present in Remo. We are also hosting live training sessions in early September. Information on how to join these live sessions will be sent directly to the presenters.
---
Will I be able to practice presenting before the event?
---
Presenters will be sent an email inviting them to log into Remo as a speaker a week before the event. At that point, they will be able to log in to the event space. There they can practice turning their camera and microphone on and off, and practice sharing their screen.
---
What technology do I need to attend the event?
---
Remo works on desktops, laptops, and mobile phones. Tablets are not supported. It is compatible with macOS and Windows 10. On smartphones, it is compatible with iOS and Android. On Mac desktops and laptops, Remo is compatible with the following browsers: • Chrome • Safari • Firefox On iPhones it is compatible with the Safari browser only. On Windows 10 desktops and laptops, Remo is compatible with the following browsers: • Chrome • Firefox On Android phones it is compatible with the Chrome browser only. As a presenter you will need to enable your webcam and microphone. To check if your browser, hardware and internet connection work properly please go to https://hi.remo.co/geartest.
---
How do I access the Conference on the day?
---
Speakers will be sent instructions on how to access their sessions via email. Attendees will receive a few days before the Conference a password to access the links to the various panel sessions, paper presentations and side events on Remo. Each event will have its own unique link. We will open our 'doors' 30 minutes before each event to allow guests to network.
---
How can I become a sponsor?
---
Thank you for considering becoming a sponsor. Contact us at ccsi@law.columbia.edu to learn more and discuss your specific interests.
---
How do I access Remo from China?
---
Colleagues based in China might encouter some issues connecting to Remo, a Virtual Private Network (VPN) might be necessary. Please refer to this article for further information.
---
---
8-11 September 2020
Columbia University
The Global Research Alliance for Sustainable Finance and Investment